This month is our 1 year anniversary of Iced Jems Cake Club! What a fun 12 months it has been, with some amazing boxes and themes, thanks to all you who have been with us the full year!
This month is a super cuter Easter Box! The boxes should arrive around the 14th of the month, giving you plenty of time to create your Easter goodies for next month. The box includes: Bunny Ears Cake Topper, 2 Easter Egg Stencils, 12 x Easter Pipings, Easter Mix Sprinkles, Easter Chocolate Lollipop Mould and some cute Easter Paper Straws! We've created lots of ideas for you to use these goodies this month, but we know you are a super creative lot, so tag #IcedJemsCakeClub on social media when you post your creations.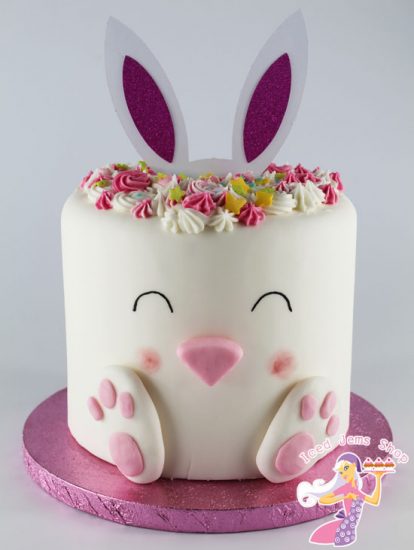 First up is this super cute Easter bunny cake, this is so simple to make but will make a huge impact at any event!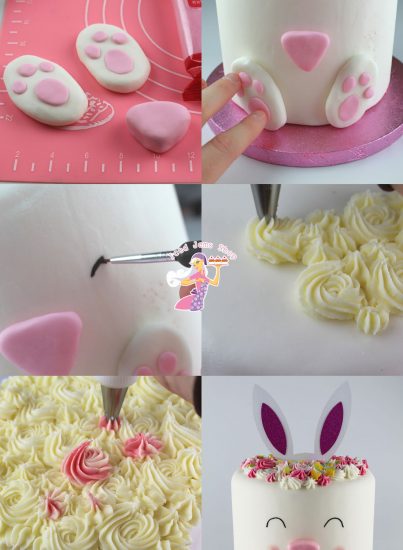 We covered a 6″ round cake (5″ high) in white Renshaw Extra Fondant and used one of our pretty pink coloured cake drums to display the cake on. Make the feet and nose using some pink and white fondant and attach to your cake using edible glue. The eyes can be painted on using black food colour and a fine paintbrush, two semi circles will do the trick.
For the top of the cake, we piped lots of different sized buttercream swirls using a 2D Closed Star Piping Tip, you can mix up the colours or even paint food colour into the side of your piping bag for a rainbow effect. Finish with a few sprinkles on top and push in the Bunny Ears Cake Topper you got in the box!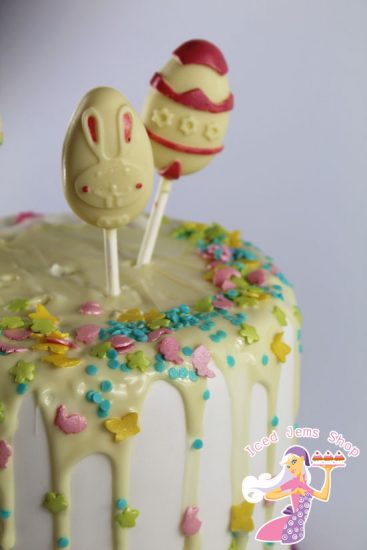 Next up is this awesome chocolate lollipop mould! Perfect for making your own Easter Chocolate Treats! These would be fab if you sell your bakes, or even for an Easter Egg Hunt!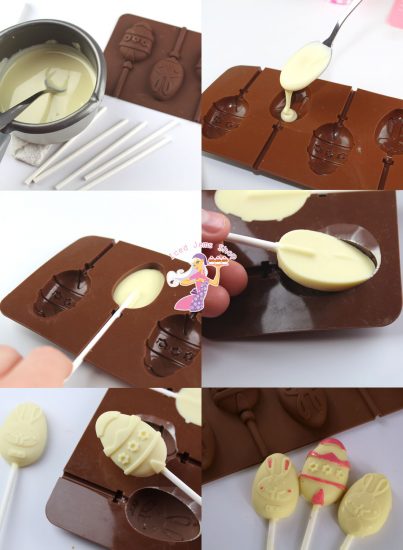 You can use chocolate or candy melts for these cute lollipops, we recommend adding a little vegetable oil to either when melting to thin them out meaning you don't get air bubbles in your lollipops.
Melt the chocolate / candy melts with the vegetable oil, we like to use an Electric Melting Pot as it ensures the chocolate doesn't burn. Pour your melted chocolate into the mould, then tap on a flat surface lightly to release any air bubbles and ensure the chocolate has filled all the grooves.
Insert a lollipop stick into the groove and the chocolate and leave to set (you can set in the fridge for speed). Once set, slowly peel out of the mould. You can add detail using our edible lustre dusts mixed with rejuvenator spirit, simply mix into a paint and use a fine paintbrush to add details. You can also simply dust the entire lollipop using dry lustre dust and a dusting brush for a nice metallic finish.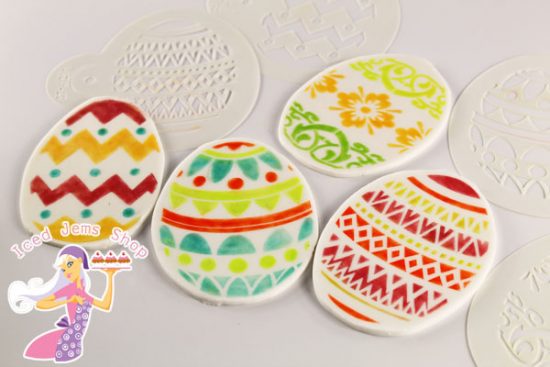 Next up are the gorgeous easter stencils! Every box contains 2 stencils, there are 4 designs in total and designs are sent out at random.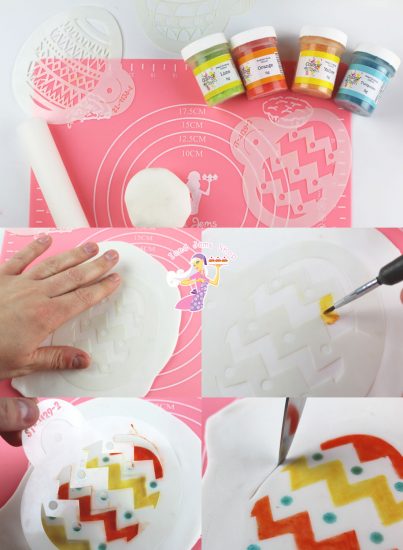 You can get really creative with these, they would make great cake toppers, cookies and more. Start by placing the stencil onto some fondant, rolling it over and into the fondant slightly to secure it in place.
We used the amazing lustre dusts to paint in the details along with a fine paintbrush. Once painted, peel the stencil away and cut out the shape with a knife or cookie cutter.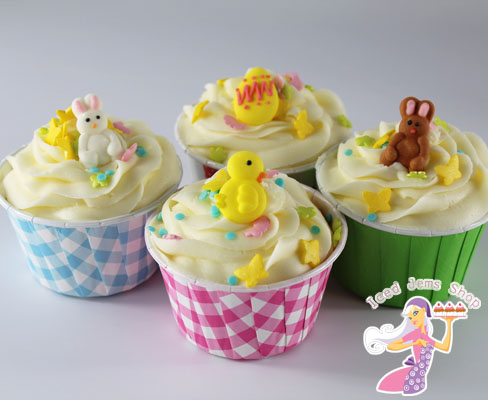 The pack of Easter Pipings in the box are super cute and cane be used on all sorts; Cupcakes, Cakes, Cookies, Brownies, Puddings – you name it! They are 100% edible and come with 3 of each of the following designs; Chick, Brown Bunny, White Bunny and Easter Egg.
We hope you enjoy the box this month!
Jem x