We were so excited for you all to see this month's Cake Club Box!
This month's theme is Steampunk and it's packed with goodies you can use over & over again for all sorts of treats! The box includes:
A Clog and Wheels Impression Mat
A Lock and Key Sugarcraft Mould
A Steampunk Theme Sprinkle Mix
A Clock and Key Embossing Stamp Set
A Steampunk Themed Stencil
A Bronze Lustre Dust
A Steampunk Glitter Topper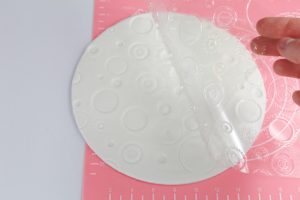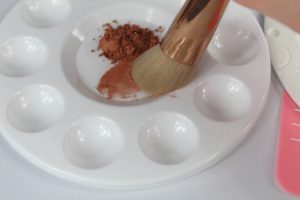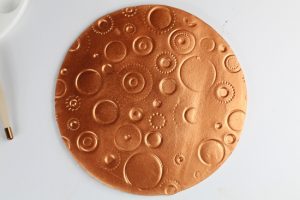 First up we have a large clog & wheels impression mat paired with our gorgeous new bronze lustre dust! You'll need; fondant, a large dusting brush and rolling pin or smoother. Little tip: impression mats work best on fresh fondant! Roll out your fondant, place your mat on top and use your rolling pin/smoother and apply hard pressure to make indents, then carefully peel it back and dust with some lustre! A little bit goes a really long way – covering this 8inch drum barely made a dent!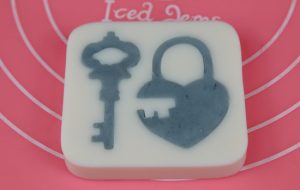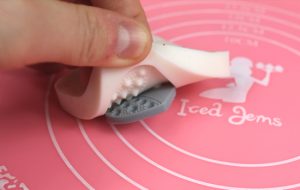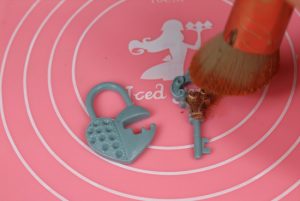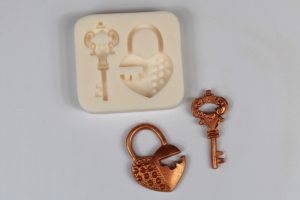 This super cute heart padlock and key mould ties in perfectly with the steampunk theme but can also be used for treasure chests, valentines creations etc.
Our moulds are really easy to use: spray a little cake release into the mould at arm's length and fill with fondant, then it should peel straight out. You can dust with a little lustre or leave as they are but we're pretty in love with this bronze finish! Place these on top of cupcakes as seen below or on a larger cake.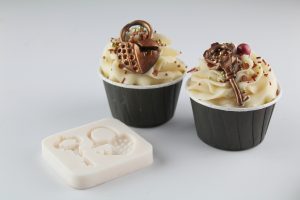 And then we have our fab new Steampunk themed Sprinkle Mix with yummy choco balls – they make a great addition to any bake!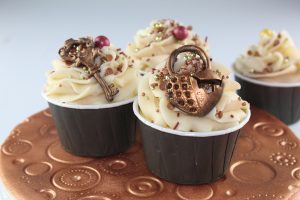 If you're looking for a super quick and easy cupcakes, you can simple decorate them with a swirl of icing (we used our 2D Closed Star Nozzle for the picture above), top with some sprinkles and the cute toppers!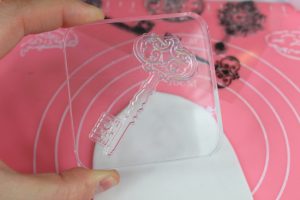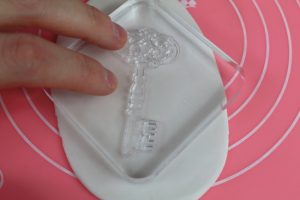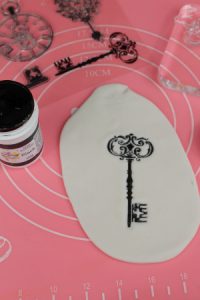 A lovely new addition to our embossing stamp sets – the clocks and keys! Peel the stamp off the packaging, place it onto the acrylic block and press into fresh fondant. Then simply paint using one of our fine paint brushes and ready-made paint (alternatively, you can mix your own using lustre dusts and rejuvenator spirit). The final product is so effective!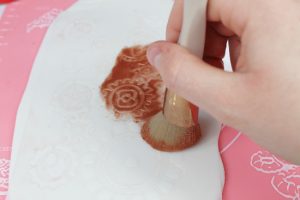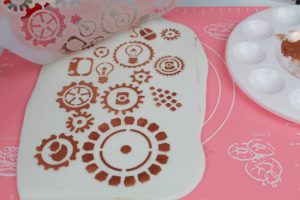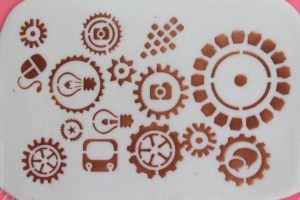 In this box, you'll receive 1 of 3 large cake stencils! You'll need; a large dusting brush, some lustre dust and our smoother or rolling pin. Place your stencil over the covered cake (can be covered with either buttercream or fondant) and use a smoother/rolling pin to help keep the stencil in place and create a neater finish. Then lightly dust the stencil, making sure any excess is wiped away. Carefully peel back your stencil and voila! If you want this pattern to go around your whole cake, simply repeat the stages above. This stencil also works well with airbrushing or paint!
Finally, we have a brand new Steampunk glitter topper! Perfect to finish off any cake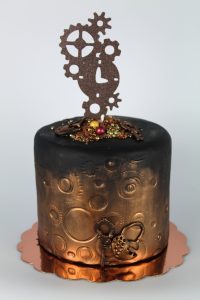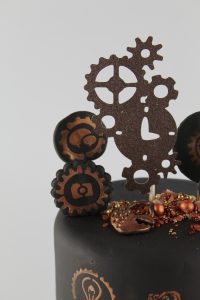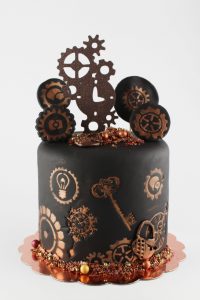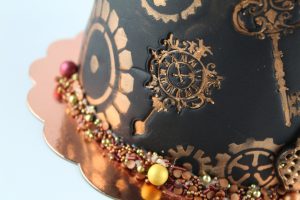 We hope you enjoy the goodies in this month's box and get creative! As always, share your creations with us and use #IcedJemsCakeClub on social media so we can see!
Jem x