Another month, another Iced Jems Cake Club Box! You'll find that these products are very versatile and can be used for so many occasions!
This month's theme is Jungle and it includes:
A set of 4 Animal Print Stencils
A Jungle Animal Mould
A Jungle Theme Sprinkle Mix
Animal Print Washi Tape
A black Double Cupcake box
A set of Jungle Leaf Glitter Toppers
When you purchase this box, you'll receive a set of 4 brand new stencils – giraffe, leopard, zebra/tiger and reptile. They make perfect cupcake toppers (see picture below) and can be coloured to suit any theme!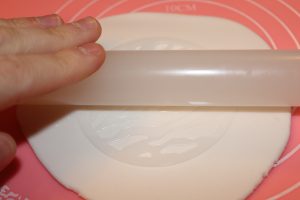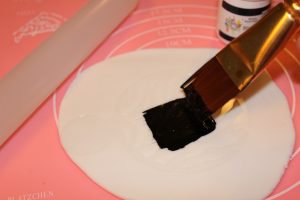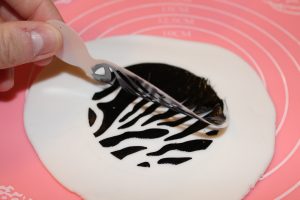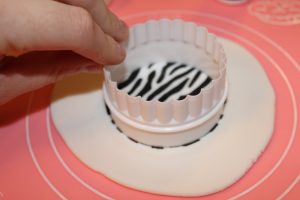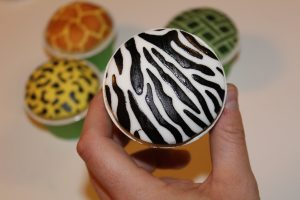 We used our ready-made edible paint in this tutorial but you can dust these with some dry lustre if you prefer!
Start by rolling out some fondant, and then place your stencil on top and use a rolling pin to secure the stencil (this helps to create really clean lines). Paint over the stencil using a large brush and ready-made paint – a little goes a long way so use sparingly. Carefully peel back stencil to reveal your pattern!
We've included a new adorable jungle animal mould which is perfectly sized for cupcakes!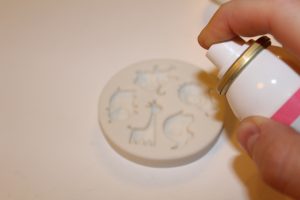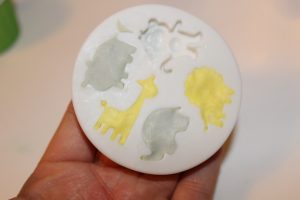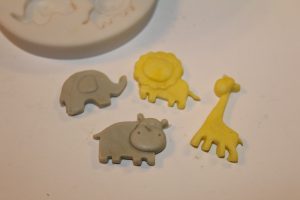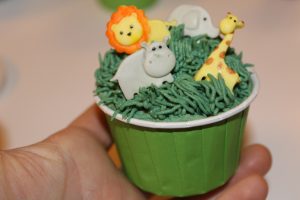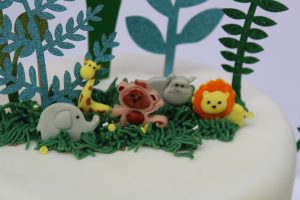 Start by spraying a little cake release into the mould from about an arm's length away, and then push some fondant/modelling paste into the cavities – they should peel back out right away! Once they've hardened a little, you can paint on the small details such as eyes, giraffe spots and lion's mane etc.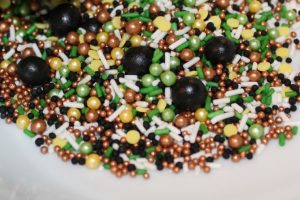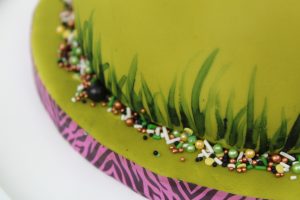 Next up, an exciting new Jungle Sprinkle Mix! You can use these sprinkles on top of cupcakes, cookies or for bordering larger cakes! These would also work well for any army themed bakes 🙂
We've also added a new double cupcake box to our range – we hope you'll be able to find lots of occasions for this colour! They're super easy to assemble as they're pop-up boxes. It's a double black cupcake box with clear window at front and top, complete with insert for two cupcakes. The box is 4 inches high and fits our regular cupcake cases and regular baking cups! If you remove the insert and this box would also be perfect for doughnuts, cookies and loaf cakes.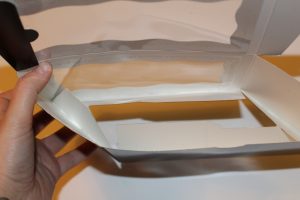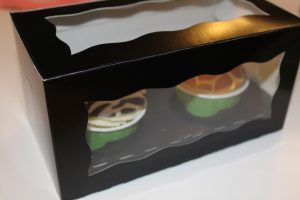 You'll find one of two washi tape designs in your box this month – a black & white zebra print or this gorgeous black & pink design! We love washi tape here at the shop as it's self-adhesive, making it much less faff than using ribbon. They're the perfect width for covering the edges of our standard cake drums and for embellishing any of our treat boxes (including our lovely new cupcake boxes!).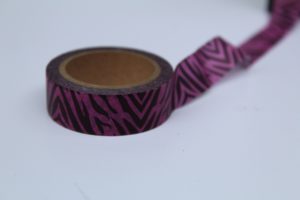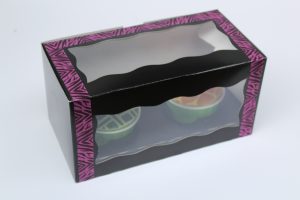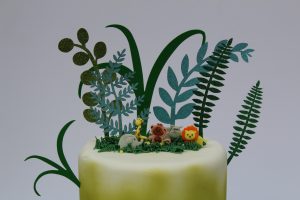 We had so much fun designing this 7 piece set of jungle-themed glitter toppers for this month's box! You'll find an array of green and blue foliage to finish off your jungle cakes – we used a 6" cake in this photo but your toppers could easily fill up an 8" cake if you wanted to go bigger!
Here's a quick and easy tutorial of how to create the grass border effect you may have spotted a little further up the blog! All you need is a green sugarflair colour, some rejuvenator spirit and one of our fine paintbrushes.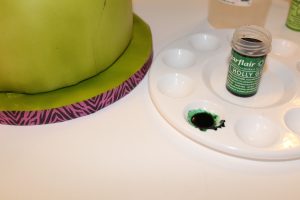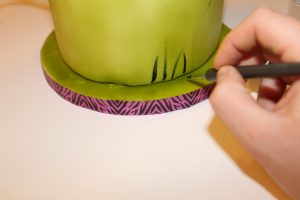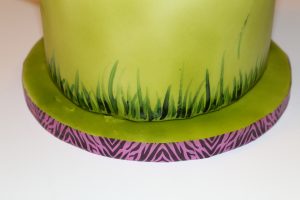 Add a little rejuvenator spirit to your chosen gel colour – you want it to be a little thinner than a paste. Paint quick upward strokes along the whole border of the cake. You'll want to paint them with a slight curve and different heights to create a more realistic finish.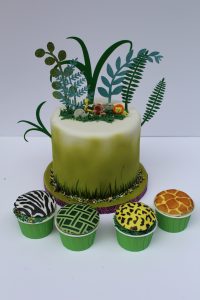 And there you have it, June's box! We hope you love this box, please share your creations with us using #icedjemscakeclub
Jem x