Yay! Another Iced Jems Cake Club box is here!
This month's theme is Rainbow! We've filled this box with lots of bright and colourful goodies which can be used for all occasions. This is certainly our most colourful blog post to date – hopefully you'll be inspired! In your box, you'll find:
2 new rainbow mixes!
A unicorn treat box
A pack of 24 toppers
A sugarcraft mould
A swirly lollipop
Washi tape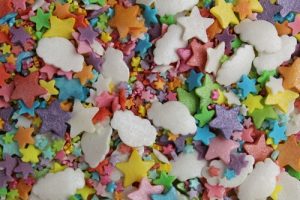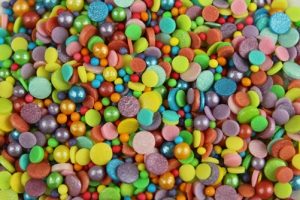 This month's box is packed with not one, but two brand new sprinkle mixes! The first mix is our pride mix which is full of colourful sequins and sugar pearls. The second mix is our cloud and stars mix which includes cute little clouds and stars of all sizes! Perfect for topping traybakes, cupcakes, larger cakes and adding to cookie dough etc! You'll see them being used throughout the blog! 🙂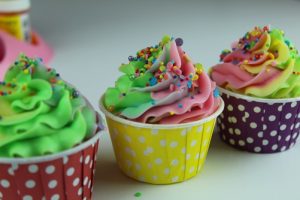 You'll find a short guide to making pastel rainbow cupcakes below!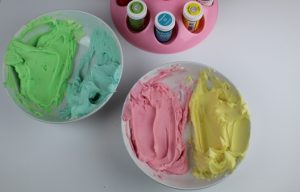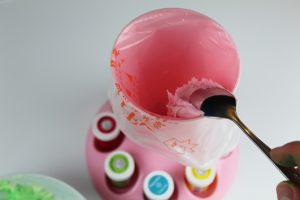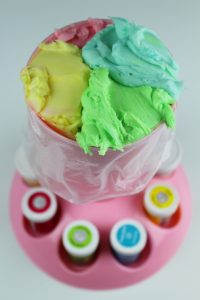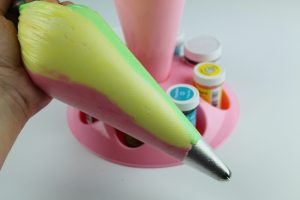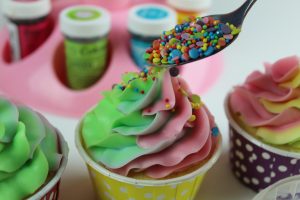 Start by mixing up equal amounts of buttercream with Turquoise, Melon, Lime Green and Fuchsia sugarflair pastes (you'll only need a tiny amount as they're super concentrated and will develop over time!).
You can see that we're only using one piping bag in this method – it's much less wasteful and you still get the same fab results as other methods! Pop a 2D/1M nozzle (both make gorgeous swirls) into your piping bag and place it into our stand. Start by spooning buttercream into the bag quarter by quarter so you have even amounts.
Watch your colours blend together whilst you pipe swirls onto your cupcakes! If you want to top with sprinkles like we did, make sure you do so before the buttercream starts to crust over!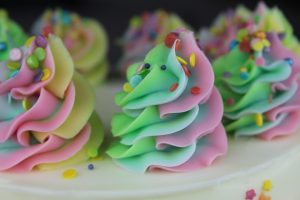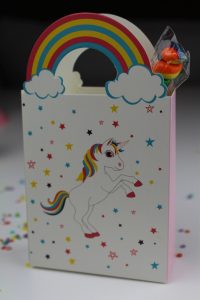 Treat boxes are perfect for parties and our new design ties in so well with this month's box! You can fill these with leftover cake slices, sweets and other little party favours 🙂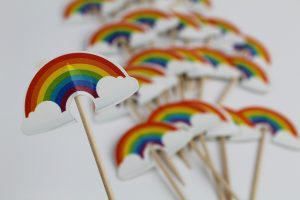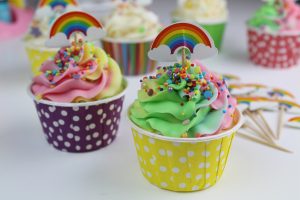 Next up we have a 24 pack of beautifully bright rainbow toppers! Simply poke these into your cupcakes, traybakes or cakes and voila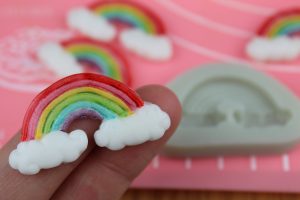 We're forever expanding our sugarcraft mould collection and we thought this would be an awesome addition! Below is a mini tutorial of how to use it.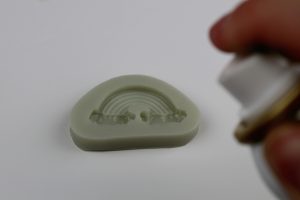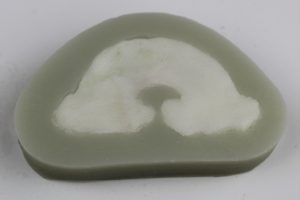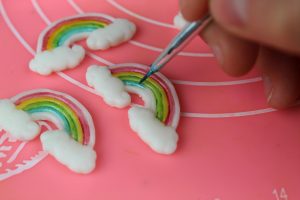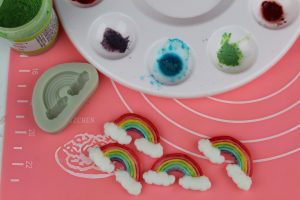 Spray a little cake release into the mould from about an arm's length away. Push some fondant or modelling paste into the mould until it's full and then peel it out straight away. Mix up some lustre dusts or Sugarflair pastes with rejuvenator spirit to create paint and use a fine paintbrush to paint the rainbow stripes.
Top tip: We used Petal pink, Kiwi, Turquoise, Yellow, Purple lustre dusts and Red Extra paste for our rainbow!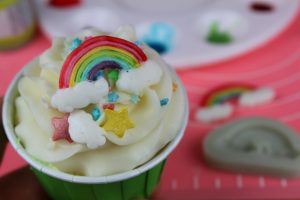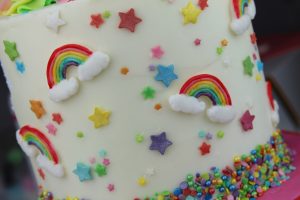 The perfect size for cupcake toppers and they also make adorable decorations for larger cakes 🙂
It's no secret that here at Iced Jems, we have a bit of a washi tape obsession! So why not add another design to the collection? 😉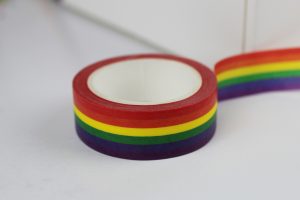 Our washi tape is self-adhesive and is around 5mm thick which means they fit perfectly around cake drums – much less faff than using ribbon! They can also be used to spruce up your cupcake and treat boxes which definitely adds a little wow factor as you can see!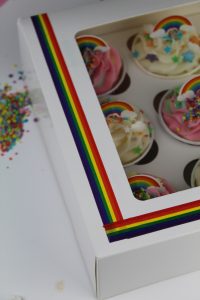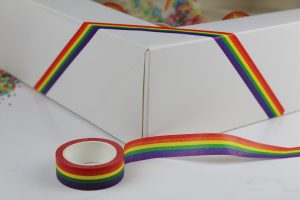 Use Sugarflair Turquoise, Melon, Lime Green and Fuchsia to create really vivid colours for the buttercream!
Begin by piping lots of 2D swirls on top of the cake to create the mane, add on some of our cloud & star sprinkles, then place the lollipop nearer to the front of the cake for the horn.
For the ears, roll out some pink modelling paste/sugarpaste to about 5mm thick and cut out 2 identical triangles, then paint them gold using a mixture of pure gold lustre dust & rejuvenator spirit. Using the same paint mixture, add on the eyelashes details.
Finish off the cake by covering the exposed drum with sprinkles and washi tape!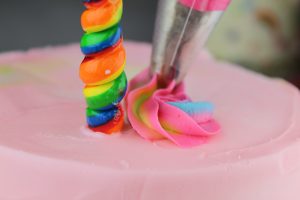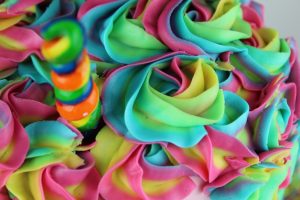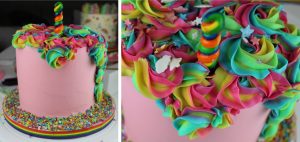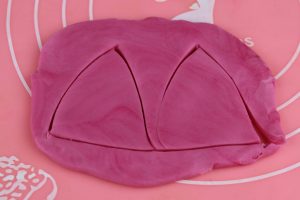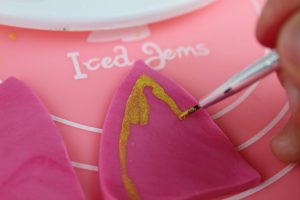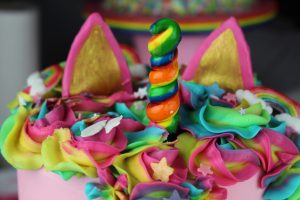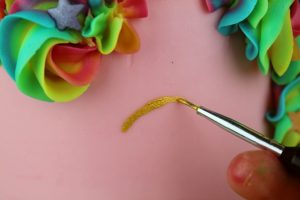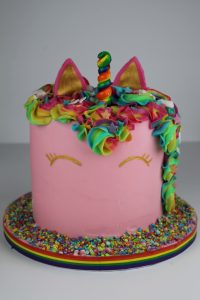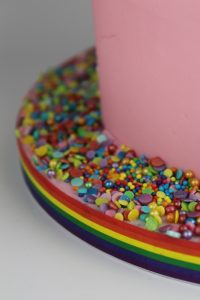 The cake below is super quick and easy to make! Cover a cake with buttercream and add our pride sprinkles mix along the bottom inch of the cake. Make some rainbows using the sugarcraft mould and stick them to the cake at random.
Pick out different sized stars from the cloud & stars sprinkle mix and press them into the cake to fill in any large gaps. Finally pipe some 2D/1M swirls on top of the cake and top with sprinkles!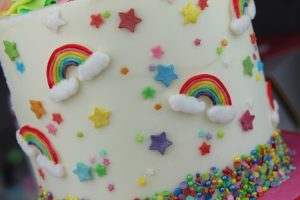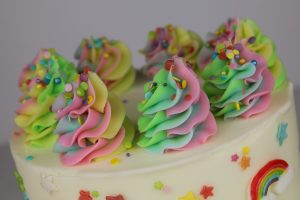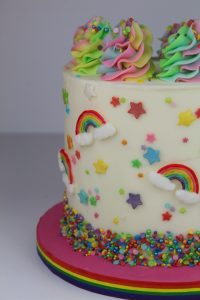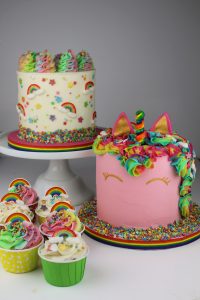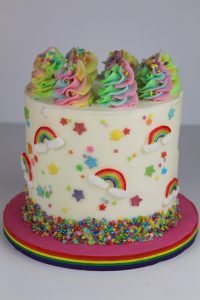 And there you have it – our Rainbow Cake Club box! We hope you enjoy the goodies in this month's box and are inspired by the creations you've seen in this blog! As always, share your creations with us and use #IcedJemsCakeClub on social media so we can see!
Jem x