Oh what a brilliant summer we've been having! Hope you're ready for this fab sub box, which should be arriving mid August which is just in time to celebrate those warm, summery evenings! x
Here's what's included in this box:
A Flavoured Sprinkles Mix
A Fruit Slice Mould
Pipettes
Pack of Cocktail Umbrellas
Cocktail Cupcake Toppers
Fruit Pattern Paper Straws
A Cocktail Flavouring
Kick-starting this month's sprinkle mix with a twist! This is one of our only flavoured mixes – packed with tutti fruity sprinkles and lime wedges 🙂 You'll see us using these sprinkles throughout the blog
We've been awaiting to add to our fruity collection and were so happy when we stumbled across this cute little mould! Spray your mould with a little cake release at about an arms length apart (you don't want the spray to pool & collect in the ridges). As this slice is quite shallow, you'll want to roll out a thin piece of fondant and press it into the mould so it's flush – it should then just peel right out! If you want to cut your slice into small segments, make sure you do so before you fondant sets firm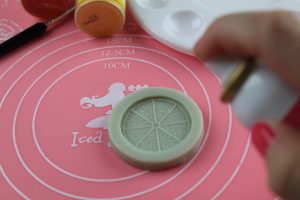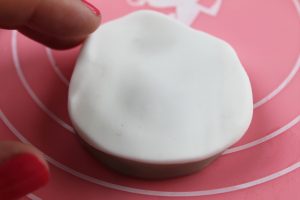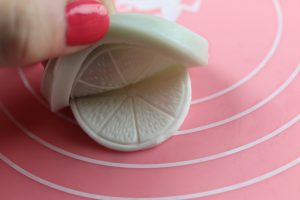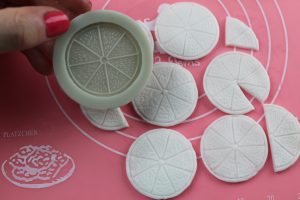 To paint the segments and give them a more realistic finish, we used sugarflair colours rather than lustre dusts as they give more of a matt finish rather than metallic. Pop some of the paste colour into your paint palette, mix in some rejuvenator spirit and paint away!
Here's a quick step-by-step on how to pimp up your cocktail glasses! Start by pouring your sprinkles into a large bowl, and covering the rim with a small amount of royal icing. Dip straight into the sprinkle mix and use your hands to press sprinkles into the remaining gaps.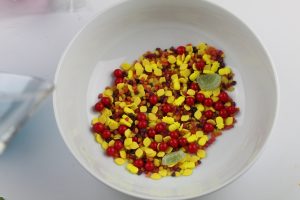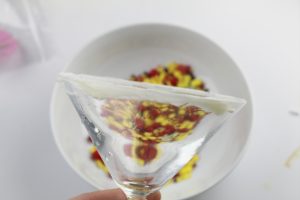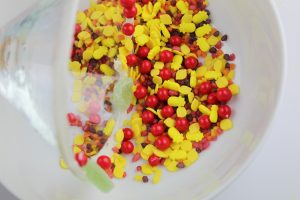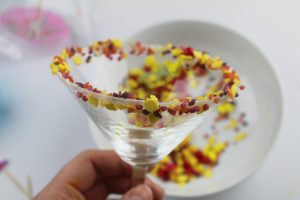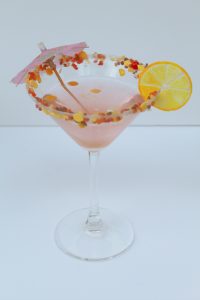 We've jumped on the bandwagon with this one! For this month's box, you'll find some pipettes which are perfect for adding shots of alcohol to your bakes 🙂 Pour your chosen beverage into a glass or measure cup, submerge your pipette, squeeze along the length of it and release slowly to allow it to fill. You can pop this straight into your cupcake along with our cute glitter toppers!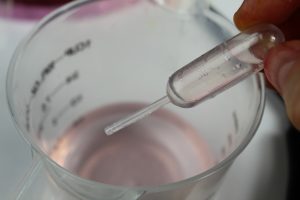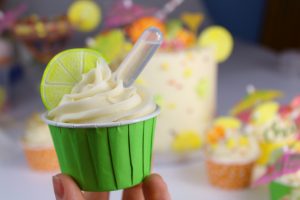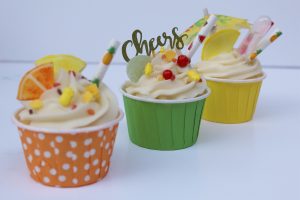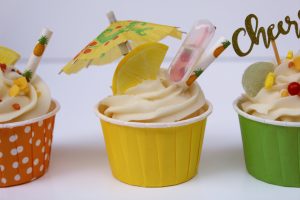 What cocktail is complete without a mini umbrella? They're so easy to assemble and just look so cute on larger cakes or cupcakes!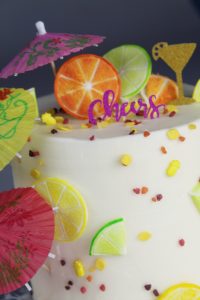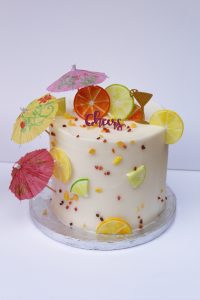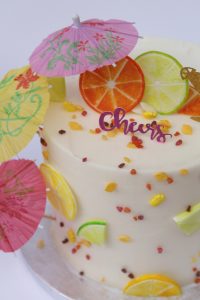 Check out our mini tutorial for making this sweet coconut cake! We used our madeira cake mix as it has a denser crumb than a victoria sponge which makes it so much easier to carve.
Start by stacking your cake layers, ensuring they're centred. Start carving your cake using a serrated knife until you have a coconut shape – take of a little at a time rather than going heavy-handed!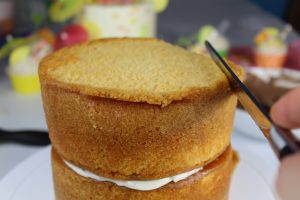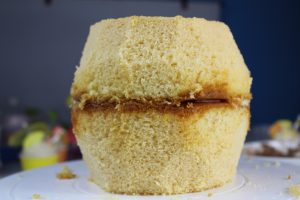 Next you'll need to carve out the centre of the cake – this need to be able 1 inch deep and start about 1 inch away from the edge. Apply a thin crumb coat to trap in all of those cake crumbs (this doesn't have to be perfectly smooth as we're going to cover the cake with textured buttercream!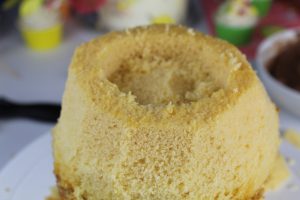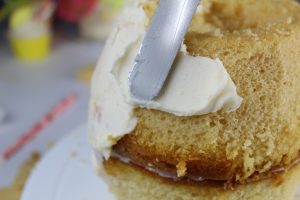 Roll out a thin white piece of fondant and drape it over the top of your cake. Using your hands, gently press the fondant into the centre and smooth down the sides. Without chilling your cake or allowing your buttercream to crust over, pop a large grass nozzle into a piping bag and fill with chocolate flavoured buttercream (or you can tint some vanilla buttercream brown using sugarflair!). Pipe in and upwards motion to create the coconut fur.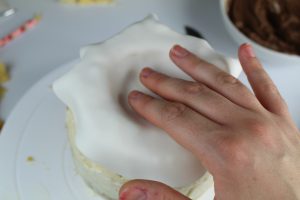 Finish the cake by filling the centre with the sprinkles mix and topping the it with a cocktail umbrella and cute paper straw. And voila!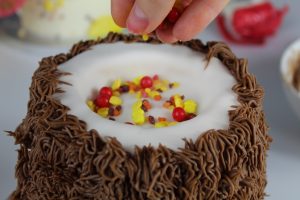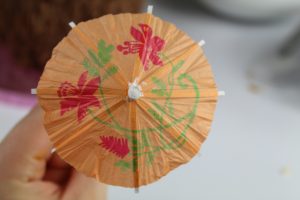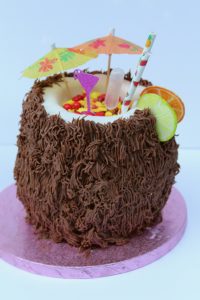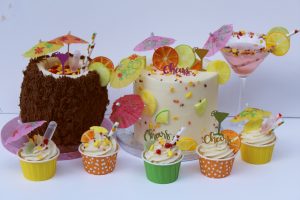 We really hope you've been having an amazing summer and enjoying this gorgeous warm weather! Be sure to tag us in your bakes using #icedjemscakeclub 🙂 Jem x