Our September Cake Club Box is the Galaxy box and contains an awesome selection of goodies which are perfect for lots of occasions & themes! This box contains:
As always, I like to kick off our blog with our new sprinkle mix 🙂 A photo doesn't do this one justice, they're so pretty and shiny in person! You'll see them used throughout the blog x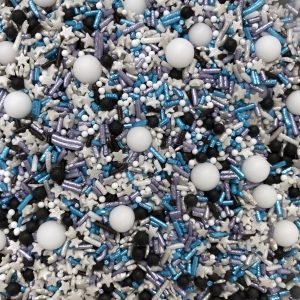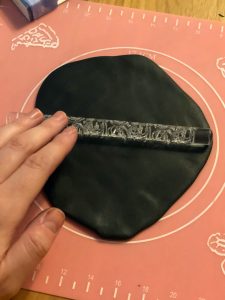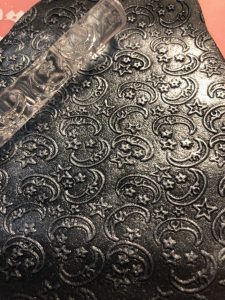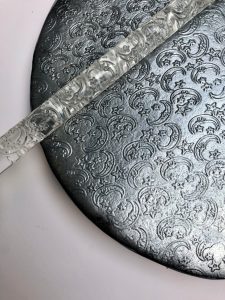 For the cake board, I used the moon & stars rolling pin! Simply roll out sugar paste or modelling paste to approx 4mm thickness, then roll over the patterned pin in a single smooth motion (going back and forth will stretch out your fondant and ruin your pattern). Add a little piping gel to you board and gently drape over the fondant. You can either leave it as it is or dust it with a large brush and your choice of lustre dust.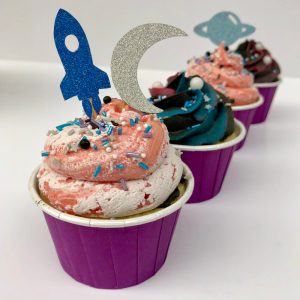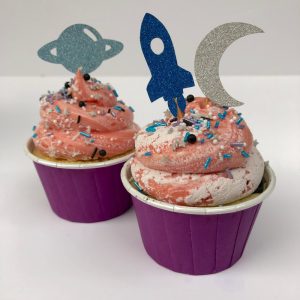 For some super quick and easy cupcakes, pipe a swirl of buttercream using a jumbo round tip. For the two-toned buttercream, I popped half white buttercream and half pink buttercream into the same piping bag and piped as normal – I quite like how each cupcake looks slightly different as the colours begin to blend! If you want to add sprinkles, you'll need to do so immediately after piping as once the buttercream starts to crust over, they won't be able to stick.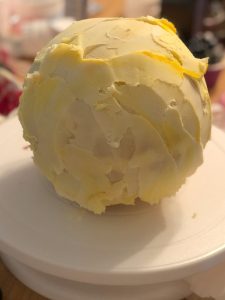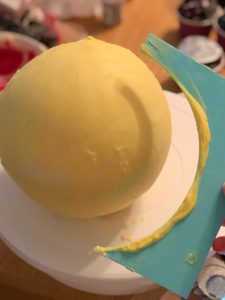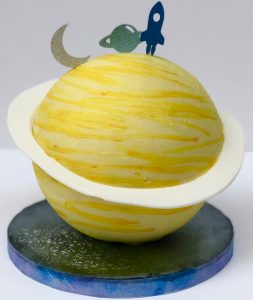 This awesome sphere cake comb is so easy to use! Stack two 6″ hemisphere cake layers together, add a crumb coat and pop in the fridge to firm up for 20 minutes. Apply a thick layer of buttercream and then use your comb to slowly scrape off the excess. If there are any gaps, fill them in and go around again with the comb.
Once your buttercream has crusted over, mix a little sugarflair food colouring with rejuvenator spirit and paint stripes around the cake. To create Saturn's ring, roll out some florist paste to about 1mm thickness and cut a 6″ hole in the centre. Leave this to set for a few hours and then place on your cake at an angle – no need for glue or additional support.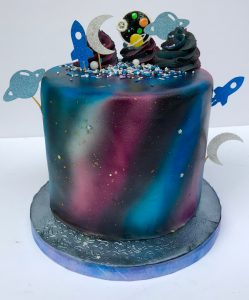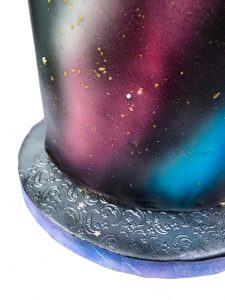 It's not very often I use an airbrush kit but I actually find it's one of the most therapeutic cake decorating techniques ever! For a galaxy effect, spray random strips of pink and blue airbrush colour onto the cake. Layer it up with some black (but be careful not to cover up the colours completely) and then using the edge of a paintbrush, flick some metallic paint onto the cake to create a starry effect. Decorate the top with some swirls of buttercream, sprinkles and glitter toppers!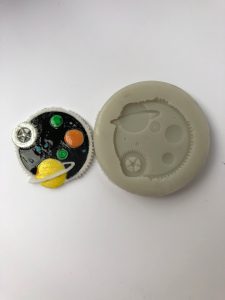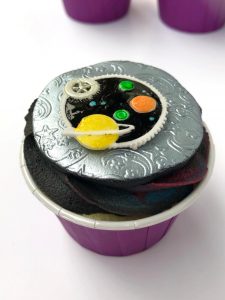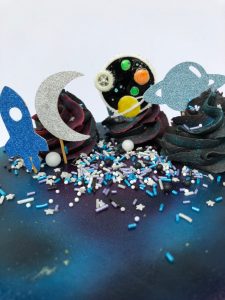 To use this sugarcraft mould, spray a little cake release at about an arm's length away and push some fondant or modelling paste into the mould. Flip the mould over and carefully peel it away to reveal your fondant. Leave it a about 30 minutes or so to firm up before you decorate it. Mix up some lustre dusts with rejuvenator spirit and paint using a fine paintbrush and leave to dry. This looks so cute on top of a textured base for a cupcake!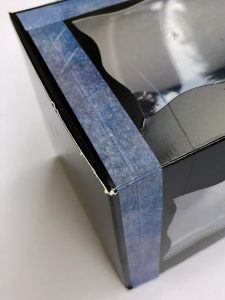 Is it really an #icedjemscakeclub box if we don't include a new washi tape?…This fab tape come in 10m rolls and as it's self-adhesive, it makes sprucing up your treat boxes and cake boards an absolute breeze!
I hope you've enjoyed this month's box as much as I have – can't wait to see what you all make! Be sure to tag us on instagram @icedjems or send us pictures on our Facebook page 🙂
Jem x