This months box is the Donuts & Drips Box and we've included some very apt items which can be used all year round (because let's face it, there's never NOT a time for donuts & chocolate)! We've included:
Chocolate Mix Sprinkles
Rainbow Mix Sprinkles
A Tiny Donut Mould
A Tiny Chocolate Bar Mould
Pack of Swirl Lollipop Toppers
Donut Pattern Washi Tape
A Drip Stencil
Donut Gift Packaging
This month's box brings us not one, but two new sprinkle mixes! We are so in love with them and you'll see them being used throughout the blog 🙂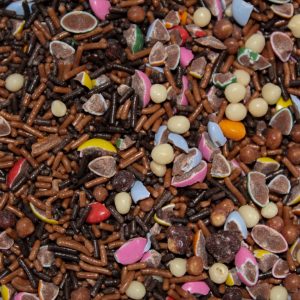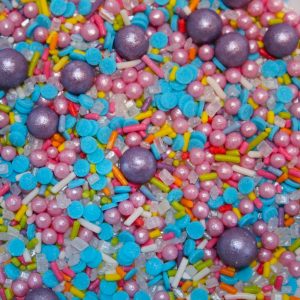 We were so happy to be able to source this tiny donut mould – miniature food is always so much cuter! You can see we've used chocolate in this mould but you could also use fondant, modelling paste, cookie dough or cake batter as our sugarcraft moulds are all oven-proof! 🙂 I started by melting 175g of white chocolate by itself using our chocolate melting pot (one of my favourite tools as it never burns your chocolate and keeps it at perfect dripping consistency). I poured this into a piping bag and began to pipe the chocolate into the cavities. You can pop this into the fridge for about 30 minutes to fully set and then they should pop right out of the mould. No need to use any cake release for chocolate but I would recommend it if you're using fondant.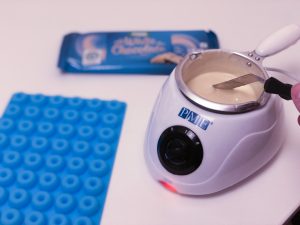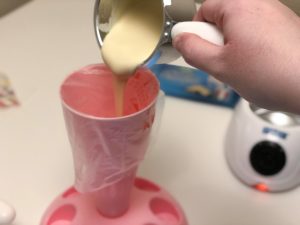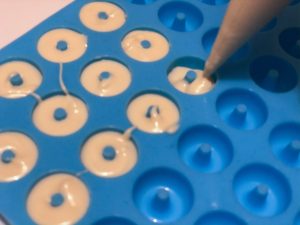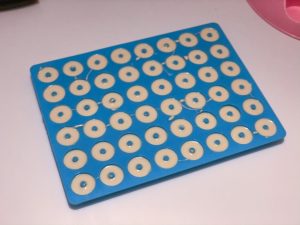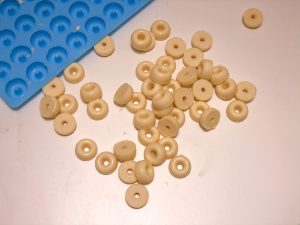 For some quick and easy cupcakes, start by piping a swirl of buttercream onto your cupcake using a 1M nozzle. Roll out some pink fondant to about 4mm thickness and cut out a circle using a frilled circle cutter. If you want to embellish the fondant, use a cocktail stick or a scriber tool to poke holes around the edge of the fondant as seen below. Spray a little cake release into your mould and grab some teddy bear fondant to make the donuts. Melt some pink candy melts and pipe some "frosting" onto your donuts, then top with the rainbow sprinkles mix from your sub box! Use any leftover candy melts or edible glue to stick your donuts down onto your fondant and voila 🙂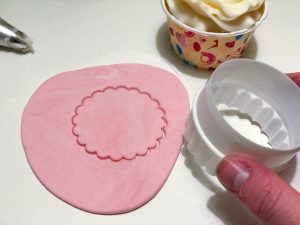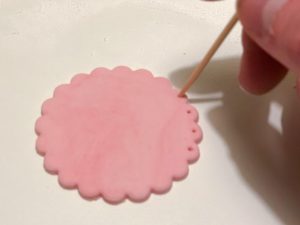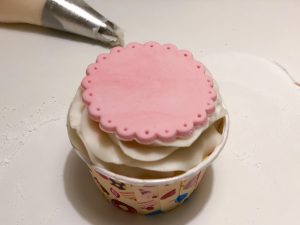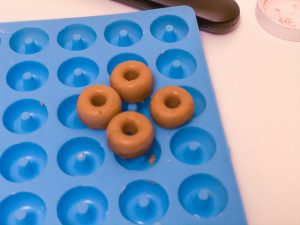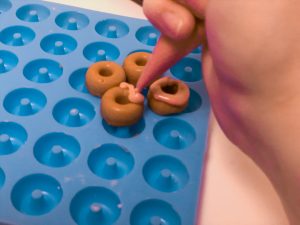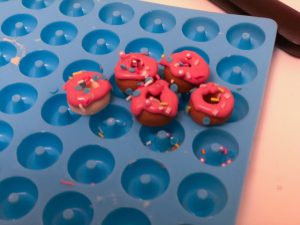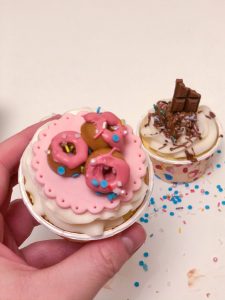 Yet another adorable addition to our Iced Jems sugarcraft moulds is the tiny chocolate bar mould. For the cupcakes, pipe a swirl of buttercream using a 1M nozzle and melt approximately 40g of chocolate in the melting pot. Once melted, take a teaspoon or piping bag and drizzle some chocolate onto your buttercream. Start filling the chocolate mould and use an angled spatula to remove any excess chocolate so that it's flush with the mould. Leave in the fridge for about 30 minutes to full set and then flip the mould over and carefully peel the chocolate out. Pop these on top of your cupcakes and finish with some of our chocolate sprinkles mix.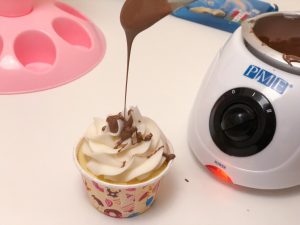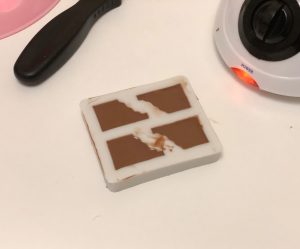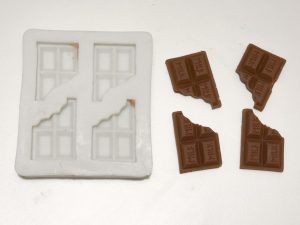 Now that you've seen both of this month's moulds in action, why not give the cake below a try? I thought a donut fault line cake would be a cute addition to this blog and it incorporates so many of the products you'll find in our sub box!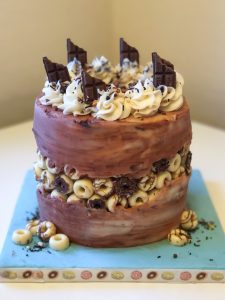 Washi tape is pretty much a must-have for our sub boxes and you can see why! They're the perfect depth for our cake drums and they're self adhesive so there's no need for any double-sided sticky tape. We love using them to decorate gift boxes too, particularly for our tray bakes and this design looks so sweet against the brown packaging 🙂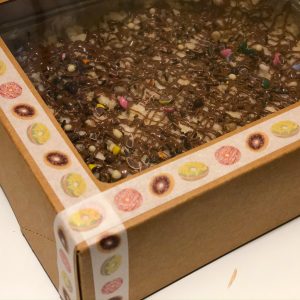 Below we have another step-by-step tutorial on how to use this large drip stencil. Align the stencil and secure into your cake using a small pin or cocktail stick. You can use a dust, paint or royal icing but I opted for an airbrush as it's one of my favourite tools! Carefully peel the stencil away from the cake and then use a slightly damp cloth to wipe away any excess airbrush colour (the range we stock is water based and so wipes away beautifully!). Finish spraying the top of the cake and carefully arrange the swirly lollipop cake toppers along with the mini chocolate bars, swirls of buttercream and sprinkles.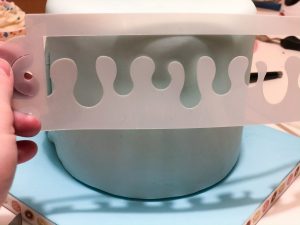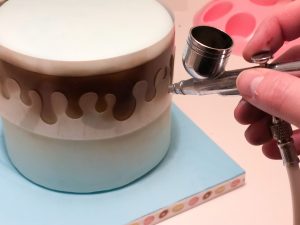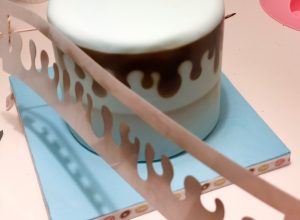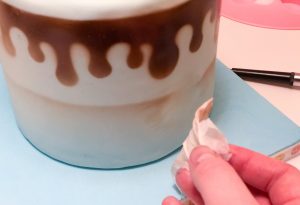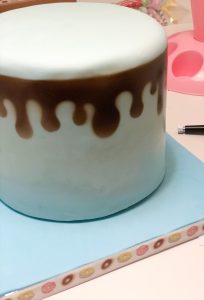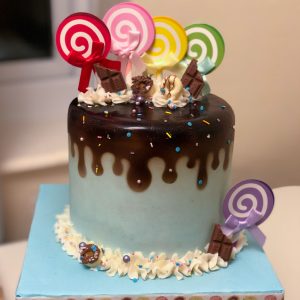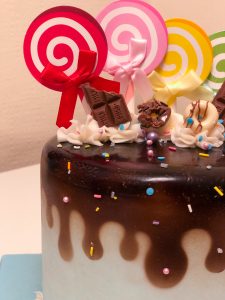 Last but not least you'll be receiving some really pretty donut gift packaging! They're quick & easy to assemble, just make sure you fold along all of the seams before you put it together. You can stack them on top of each other for ease of transport and they've got little windows either side of the box so that recipients of these gifts can have a sneak peak of what's inside. Of course, this was also a perfect opportunity to show off our new rainbow mix – we reckon it'll be a huge hit with you all!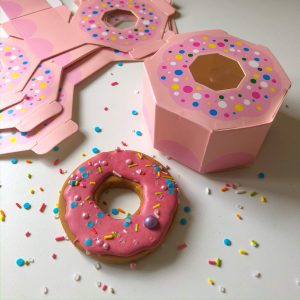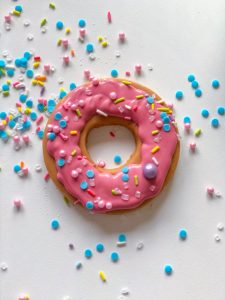 We really hope you've enjoyed this month's box! If you've made any goodies using our products, make sure you tag us on social media using the hashtag #icedjemscakeclub
Jem x