[fblike layout="box_count" show_faces="false" action="like" font="lucida+grande" colorscheme="light"][tweet username="icedjemsltd" layout="vertical" text="How to use Baking Cups"][googleplusone size="tall"]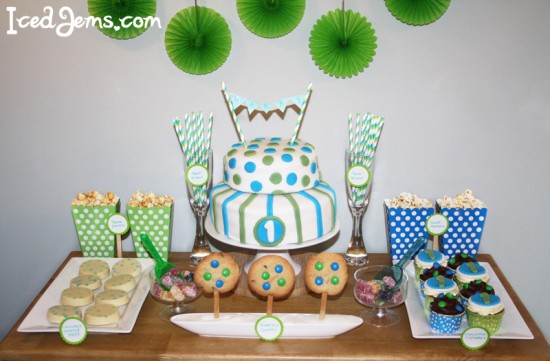 I love doing pretty dessert tables, especially when it means I get to try out some of the gorgeous party ware from my online shop!
This table was done for a little boys first birthday, there were lots more cupcakes and cookies than the ones you can see, but they were just re-filled as they went down.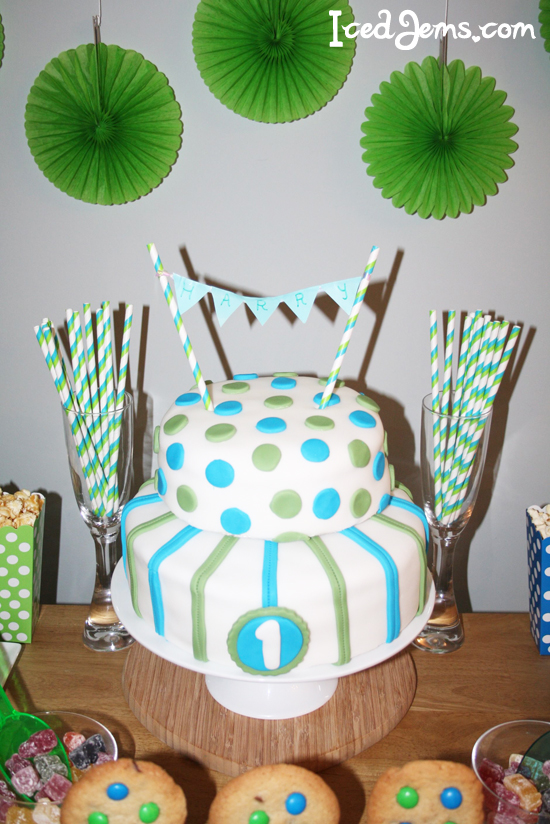 Let's start with the cake! I'm no artist when it comes to sugar paste, so keeping it simple is best (especially when you have about 10 other things to make and bake). I covered 2 tiers of cake in white sugar paste, then used green and blue sugar paste to make a mix of stripes and spots!
I finished the cake with some homemade cake bunting using the Green and Blue Stripe Straws from the shop. Cake bunting is such a simple idea that gives a really nice finish to cakes, you can just use string / ribbon and triangles of paper along with the paper straws to make it.
I also co-ordinated the background using the 5 pack of Green Hanging Fan Decorations, these are really simple to put up and all good dessert tables need a pretty background decoration.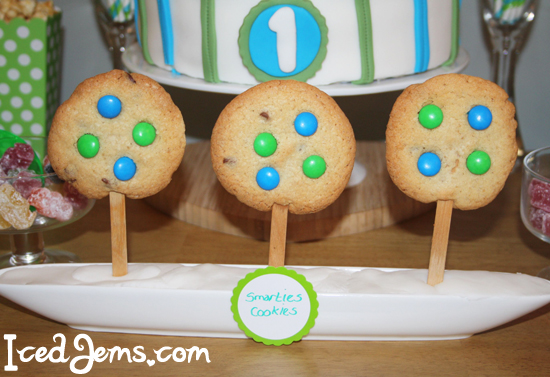 Smarties Cookies are another extremely simple idea for parties, you can co-ordinate to whatever party theme you want by changing the colours of the smarties (or M&M's). I used my Chewy Chocolate Chip Cookie Recipe for these, and just added the lollipop sticks and Smarties.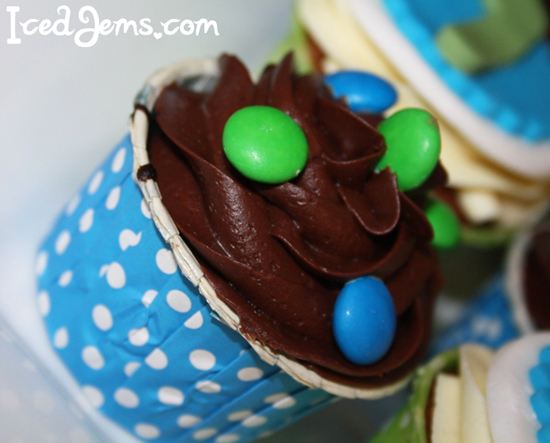 For the cupcakes I of course used the Polka Dot Baking Cups from my online shop. I much prefer these to ordinary cupcake cases as they don't lose their colour or get marked by the grease from the cake. They also really stand out on a party table and when you unpleat them to eat, they double up a plate for the cake!
These Polka Dot Treat Boxes were fantastic for the popcorn, I even put different flavours in the different colours. It's really important to have a few simple "filler" items on your dessert table so that you don't drive yourself crazy and run out of time trying to bake everything, things like popcorn and marshmallows are perfect for this. Things like these boxes mean that even though they are store brought, they can still co-ordinate perfectly on your table.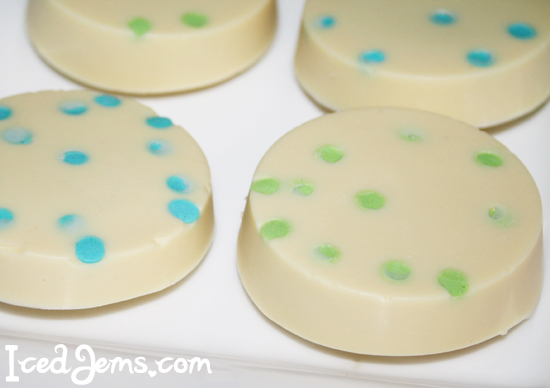 Chocolate Covered Oreos were the definite winner in terms of popularity at this party! These are so simple to make using my Chocolate Covered Oreo Mould and the possibilities for colours and designs are endless!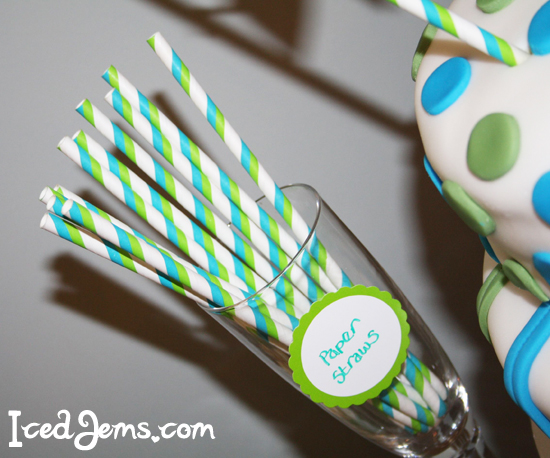 Colourful Paper Straws are a must at any party, and a really cheap way of co-ordinating the drinks with the rest of the party. You can also use them as sticks for cake pops! These are available from my shop for just £2 for a pack of 25. The Candy Buffet Labels are an absolute must have too, only £1.50 for a pack but it saves yourself repeating what everything is 20 times to the guests! 😉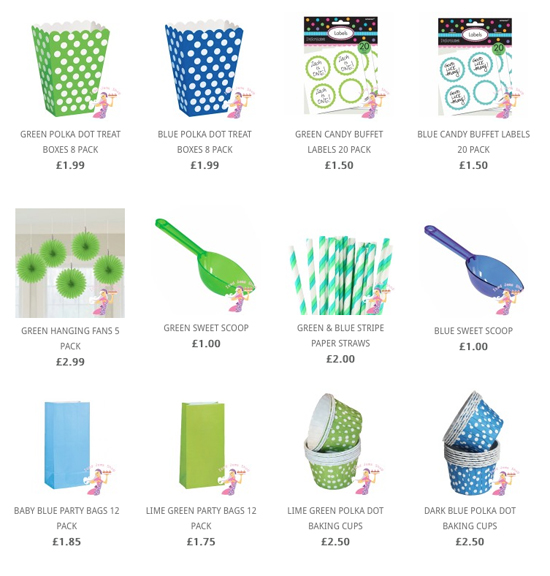 All the wonderful goodies to re-create this look are on my little online shop for you: www.icedjemsshop.com , most of the items are available in a range of colours too, so the concept can be applied to any theme! Happy Partying and please do send me pictures of any dessert tables you make!
Jem x