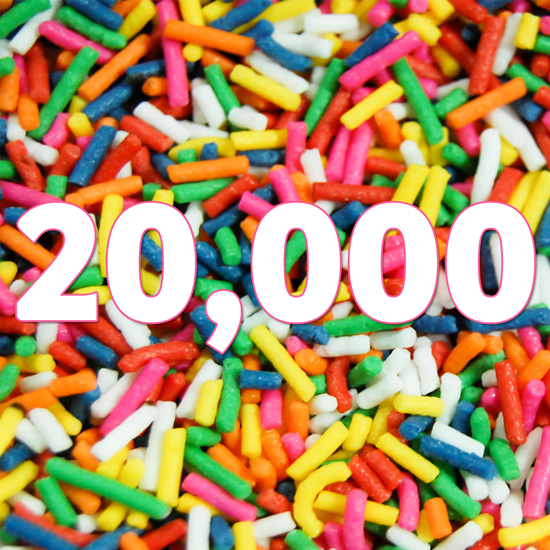 Wow, where do I even start! Today I reached 20,000 Facebook Fans, I'm honestly in awe and wanted to write a little thanks to each and every one of you for reading my recipes, sharing your baking experiments with me, buying from my online shop and being a part of my online adventure!
I started this blog about 3 years ago, I was constantly baking and taking cakes into work, so I decided to document my experiments online! My first post was done using a camera phone and it's crazy to look back and see how much I've improved. Looking back I've had so much fun, from making a completely cringe-worthy YouTube video that somehow racked up 140k views (like everyone in the world I hate the sound of my own voice haha), a Cake Servings Guide that has over 112k pins on pinterest and working with my amazingly talented friend Chris White to create the ever popular Marble Cake!
And then of course there's my online shop that I honestly feel so lucky to have been able to start! I love the feedback I get about all the unusual bits I get in, and seeing your pictures using the products always makes my day. There is no way I could have done this without my amazing mom – so thanks mom 🙂 – me and my mom both have online businesses and always help each other out, she runs a Nail Art business here www.foils.co.uk if you like Nail Art!
As a little thankyou to you lovely lot who make up the wonderful online cake community, I'm going to be featuring 20 of your Facebook Pages over the next few weeks so everyone can see how wonderful you are! 😉
And don't worry, there's going to be a shop related giveaway too, I'm just finalising the details!
Jem x